---
Published: Friday, March 14, 2008
By Lara Gerrits, THE TRI-CITY NEWS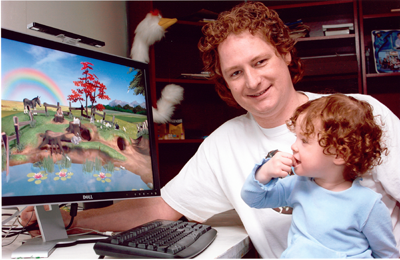 When Ken Kavanagh works on his computer, his two year-old daughter often runs up to him with an excited request.
"'Lap, daddy! Lap, daddy!" pleads Olive, whose red curly locks mirror those of her father's.
She wants to be hoisted up closer to the computer screen; a window, she probably figures, to The Meadow.
It's a place where loveable animals frolic with bunnies and birds, deer and cows, skunks and frogs, even a fox.
And when Olive, like most two year olds, jumps at the urge to touch the keyboard, she sees a wonderland of sorts unfold before her eyes.
If she presses a letter, a toad might stick out its tongue to capture a fly, or a bunny might drink from a pond. If she hits an arrow, she'll hear a sound effect. A function key will change the weather and a number key will cue music.
"The goal was to create an intimacy with animals doing what they may or may not do in real life," Kavanagh said.
The Coquitlam dad and gaming industry veteran launched Clicktoy Interactive Inc. in November, 2006 and soon after started creating its first production, "Clicktoy - The Meadow", with a team of experts.
It was released March 1 after almost a year of hands-on work, although the idea had been with Kavanagh for quite some time.
After his eldest child, Aiden, was born four years ago, he started investigating what software is available for babies. After shopping and trying different games, he noticed most were over Aiden's head, or required him to use the mouse, a complicated tool for a toddler.
Kavanagh began a list of problems with children's software and though, "All we want is to press a button."
Later, while reading the Bible's Psalm 104, which is filled with imagery of rain, clouds, valleys, hills, animals and pastures, he had "purely poetic inspiration" for The Meadow
The game is suitable for youngsters aged one and older and utilizes the proprietary. ClickSafe technology, which creates a sort of software playpen that prevents a child from exiting the game and returning to the desktop.
Although television, computer and video games get a bad rap, Kavanagh said violence and other problematic imagery is the problem not the technology.
"As a father, I want the best for my kids and I see that everything I say or do is reflected in their actions," he said. "If this outputs good in to the eyeballs that see it, there there's nothing wrong with it."
"Clicktoy – The Meadow" is the first title developed in the series, to be followed by "Clicktoy – The Mountain" and "Clicktoy – The Sea". "Clicktoy - The Meadow" is available in many different languages at www.clicktoy.com for $20 for Windows-based computers. Trailers and game stills are also features on the site.
---
© THE TRI-CITY NEWS, 2008
---